Welcome to the Albany Region
Albany is an enchanting coastal region where history meets natural beauty on the South West Coast of Western Australia. Perth , WA's capital is only a 5 hour drive away or hop on a plane and be here in an hour! Discover rugged coastlines, stunning beaches, and a rich colonial past, taking you on a journey through time. But it's not just about the past – this region boasts stunning beaches and is a popular destination for visitors seeking a peaceful and naturally beautiful environment with entertainment, shopping, delicious cuisine, and diverse accommodation options. Stretching from West Cape Howe National Park in the West, through the City of Albany and beyond to Two People's Bay Nature Reserve in the East, the Albany Region is a thriving seaside haven with glorious beaches and fun things to do for people of all ages. It is a perfect family-friendly holiday destination to reconnect with nature and rejuvenate.
The Heart of Albany
Albany City is located among the peaks of Mount Melville, Mount Clarence, and Mount Adelaide and is nestled between the waterways of Princess Royal Harbour, King George Sound, Kalgan River, and Oyster Harbour. Albany boasts natural beauty, with surrounding cliffs, rocks, beaches, oceans, forests, and bushland. Albany's city centre is a dynamic and inviting area that encapsulates the region's unique character, with York Street as the focal point. It offers a captivating glimpse into the past while still exuding a contemporary atmosphere. The central streets, including York Street, are lined with a mix of boutique shops, galleries, and local stores, offering everything from artisanal crafts to fashion and souvenirs. The culinary scene offers an array of restaurants, cafes, pubs, and eateries serving diverse international cuisine. The Albany Entertainment Centre stands as a cultural hub, hosting performances and events that enrich the city's artistic scene. Albany is a captivating destination surrounded by the peaks of Mount Melville, Mount Clarence, and Mount Adelaide.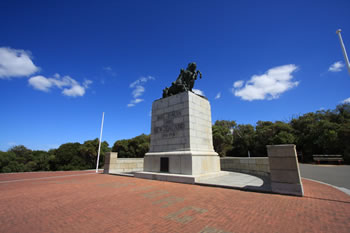 Journey into the Past
Albany's rich history encompasses diverse chapters, beginning with the ancient traditions of the Noongar people who have stewarded these lands for millennia. European settlement brought a new era, shaping the town into a vital port and linking it to maritime trade routes. Pioneers and the gold rush added vibrancy, leading to significant growth. Through the World Wars, Albany played a pivotal role as a departure point for troops, etching its name in global history. Today, this coastal gem stands as a harmonious blend of heritage and modernity, honoring its past while embracing a vibrant present. Wander the architecturally rich streets of the Historic District, or descend into the depths of the Brig Amity, imagining the voyage of the first settlers! The city's ANZAC heritage is commemorated by the National ANZAC Centre, an interactive museum that offers a profound insight into the experiences of soldiers during World War I.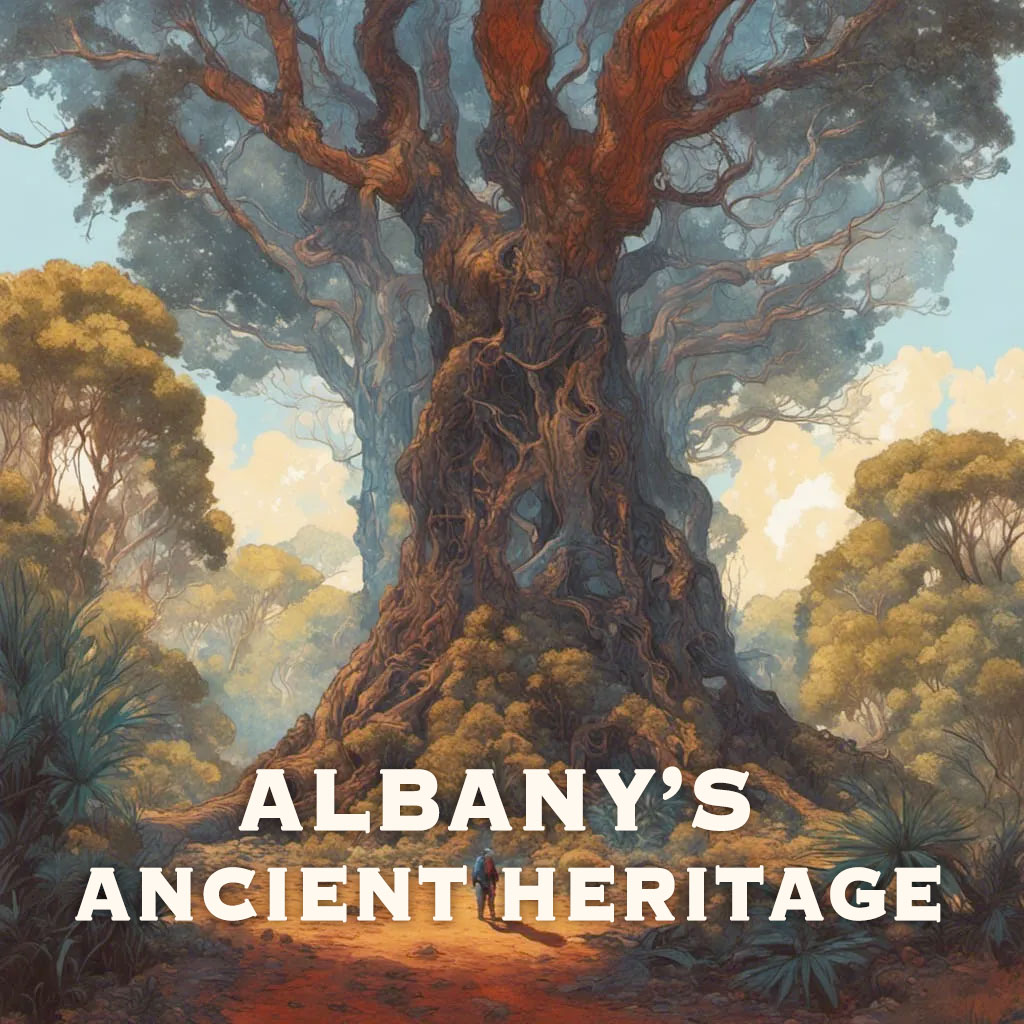 Albany's Historic District
Albany is the Oldest Colonial Settlement in Western Australia, and visitors can explore WA's oldest dwelling along with numerous other historic buildings that offer a glimpse into the past. Albany's historic district is a showcase of the city's colonial heritage. The buildings and structures here provide a visual journey back to the early days of European settlement. Stirling Terrace serves as the main thoroughfare of the historic district. It is lined with well-preserved 19th-century buildings that have been adapted for modern use while retaining their historical charm. The architecture spans various styles, including Georgian, Victorian, and Edwardian. Many of the buildings have stories to tell, they were witness to the development of Albany as a port town and played roles in various aspects of community life! Beyond its architectural beauty, Stirling Terrace is also home to various businesses, markets, cafes, and shops, making it a vibrant hub that remains integral to Albany's present-day life.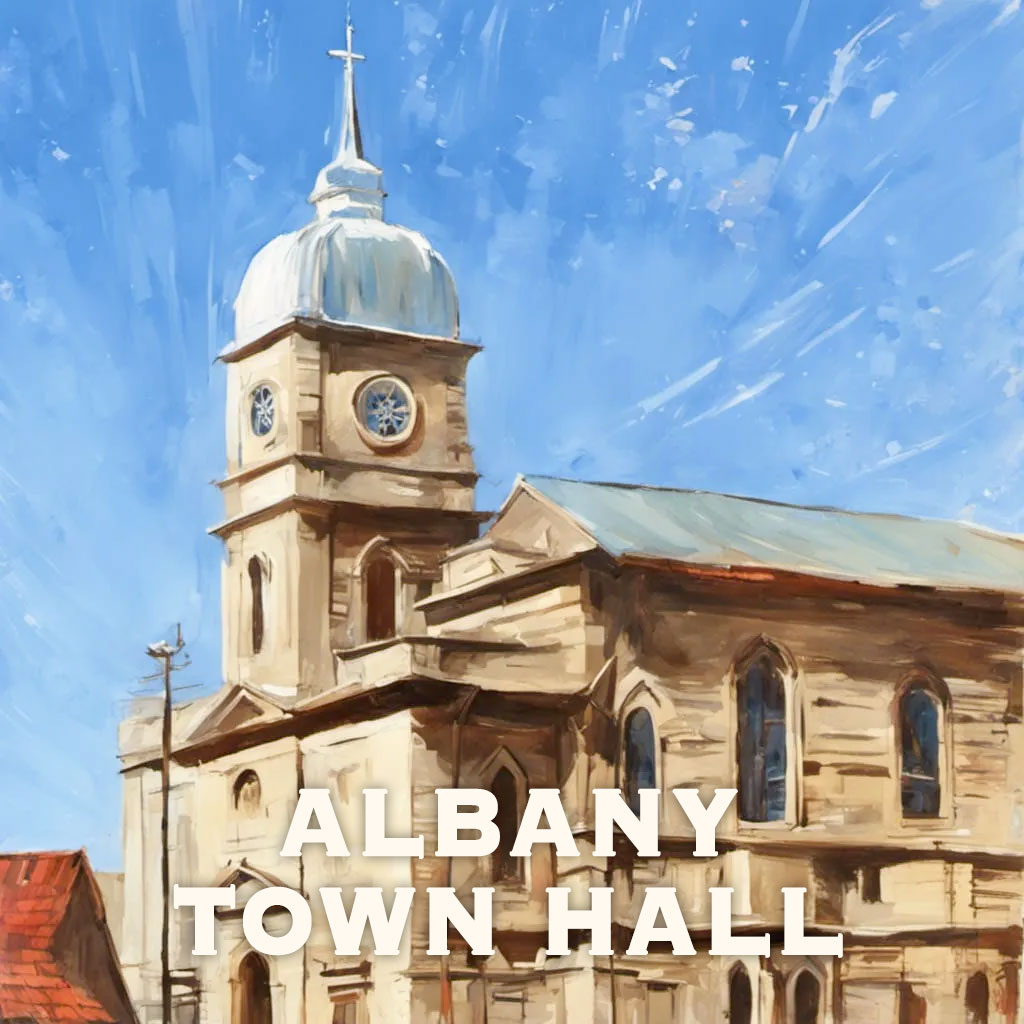 Albany's beaches
Albany's coastline offers a diverse collection of beaches that will attract every kind of beachgoer. The region's rugged coastline, adorned with unique geological formations, adds an element of intrigue and exploration to your beach adventures. From the tranquil coves that provide a secluded escape to the vast stretches of white sands perfect for picnicking and basking in the sun, Albany's beaches hold a unique charm that resonates with visitors. Explore turquoise waters, hidden waterfalls, scenic coves, and expansive white sands. From family-friendly havens like Middleton Beach (Binalup), with its amenities, playground, restaurant and relaxed vibes to hidden gems such as Little Beach (Waljeran), and the secluded charms of Whalers Beach and Misery Beach, the options are as varied as they are captivating. Discover the remote allure of Shelley Beach or the serene escape of Cosy Corner, nestled amidst rocky outcrops, all promising unforgettable experiences along Albany's stunning coastline.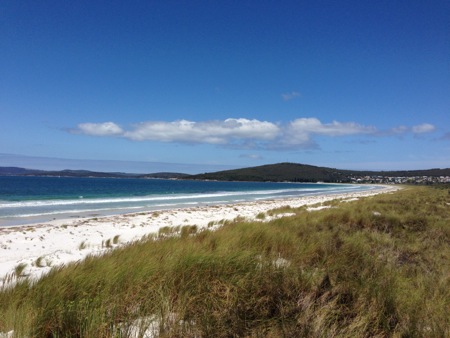 Albany's Outdoor Adventures
Immerse yourself in the region's natural beauty through hiking and bushwalking trails that traverse lush forests, coastal cliffs, and scenic viewpoints. Wildlife enthusiasts will delight in encounters with native animals like kangaroos and emus, while history buffs can delve into our rich past through heritage sites and museums. Explore Albany's vibrant outdoors with a range of activities including hiking, golf, cycling, rock climbing, and four-wheel driving. Alternatively, find serenity through stargazing, kayaking, fishing, wildlife watching, outdoor yoga, picnicking or on a scenic drive. Beach goers can enjoy snorkelling, scuba diving, swimming, surfing, paddle-boarding, kite surfing, sailing, and even whale watching between June and October. Capture the magic through photography.
Albany's National Parks
Beyond the coastline, Albany's geography extends into national parks and nature reserves, showcasing a wide range of flora and fauna unique to the region. The National Parks offer diverse landscapes, from water-carved rock formations and cliffs to pristine sandy beaches. Torndirrup National Park is home to attractions like the Gap and Natural Bridge, with lookouts offering outstanding Southern Ocean views. West Cape Howe National Park marks the southernmost point of Western Australia and features rugged terrain, secluded sandy beaches, and the famous Shelley Beach Lookout. Gull Rock National Park offers excellent views of King George Sound, shipping lanes, and Michaelmas Island. Two People's Bay National Park features attractions like Little Beach, Waterfall Beach, Sinker Reef, and the Two People's Bay Heritage Walking Trail. The Annual All Parks Pass provides excellent value, ideal for year-round park exploration.
Albany's Geological Marvels
Albany's geography includes a diverse range of landscapes such as ancient granite formations, pristine beaches, lush forests, and expansive ocean views. Albany's landscape serves as a testament to the incredible forces that have shaped our planet. The region's diverse geology tells a tale of colliding continents, shifting tectonic plates, and the ceaseless work of wind, water, and time. Every rock and ridge whispers tales spanning billions of years, offering not just views, but a journey through deep time. These geological wonders, sculpted over countless millennia, stand as a living connection to ancient lands once joined with distant continents. As you explore Albany's unique terrain, you're not just experiencing its beauty; you're stepping into a story that spans eons, a tale of Earth's transformation that continues to unfold with every step you take.
Albany's Marine Environment
Albany's marine life thrives in the rich waters of its coastal region, offering a diverse and vibrant ecosystem. The Southern Ocean's currents support a wide range of aquatic species, from colorful fish to majestic marine mammals. Along the coastal waters, playful dolphins and basking seals add to the enchantment, while between May and October, the spectacle of migrating Humpback and Southern Right Whales whales can be witnessed offshore. The marine environment also hides tales of history beneath the waves, as remnants of centuries-old shipwrecks provide a fascinating glimpse into Albany's maritime past. This marine biodiversity and the hidden stories beneath the waves underscore Albany's status as a haven for nature enthusiasts, history buffs, and those intrigued by the wonders of the deep blue.
Albany's Flowers
The Albany region is a haven for diverse flora. It is estimated that the region boasts well over 2,000 species, showcasing the incredible richness of its flora. This makes Albany a paradise for botany enthusiasts and nature lovers, providing a unique opportunity to witness the remarkable variety of plant life that thrives in this corner of Western Australia. During spring, alongside the enchanting orchids, Albany's landscape is adorned with a diverse array of wildflower species. You can expect to witness a breathtaking bloom of Banksias, Kangaroo Paws, Hakeas, and Everlastings, creating a vibrant tapestry of colors and textures across the region. The area boasts a rich botanical diversity with over 1,500 orchid species alone and the towering Karri and Tingle trees that dominate the forests.
Albany's fauna
The region's unique ecosystems support various species, making it a fascinating destination for wildlife enthusiasts. In Albany's diverse natural landscape, you'll encounter a variety of wildlife. Western Grey kangaroos are a common sight, often seen grazing in grassy areas and open spaces. Brush-Tailed Possums are Albany's nocturnal creatures emerging at dusk, showcasing their agile climbing skills. The region's biodiversity is supported by protected areas and conservation efforts, ensuring the preservation of these unique animals and their habitats. Long-necked turtles, also known as snake-necked turtles, are aquatic turtles known for their distinctive long necks that they use for hunting prey and breathing while submerged. They inhabit freshwater habitats such as rivers, lakes, and wetlands.
Albany's birds
The Albany region is home to a diverse array of over 200 bird species that either reside here year-round or visit during various times of the year. The skies come alive with the calls of native birds like magpies, kookaburras, and the distinctive grace of the pelicans. Parrots bring a burst of colour and energy to the region's birdlife. Species like the Rainbow Lorikeet, Western Rosella, Galah, Carnaby's Black-Cockatoo, Red-tailed Black-Cockatoo, and the Australian Ringneck grace the skies and woodlands with their vibrant plumage and distinctive calls. Birdwatchers can spot ravens, herons, kestrels, gulls, fairywrens, spinebills, grey fantails, ducks, cormorants, and pigeons, each contributing to the rich tapestry of the region's birdlife.
Albany walks and trails
With a selection of over 40 diverse walks and trails to choose from, the Albany region beckons explorers to embark on a journey through its captivating landscapes and cultural heritage. From coastal views to lush woodlands, the trail options are as varied as the scenery itself. Explore the rugged beauty of Torndirrup National Park through trails like The Gap and Natural Bridge, where striking rock formations meet the Southern Ocean's powerful waves. For history enthusiasts, the Albany Heritage Park Trails and Princess Royal Fortress Heritage Trail provide insights into the area's colonial past. For tranquil nature experiences, consider the Torbay Inlet Walk Trail, and cyclists can enjoy the picturesque Kalgan River Trail. Nature enthusiasts and adventurers alike will find a trail or path that resonates with their spirit of exploration. Albany serves as the southern terminus of the Bibbulmun Track walking trail, extending north to Perth City. The trail offers a remarkable journey through diverse landscapes.
Albany's trees and forests
The Albany region boasts a diverse array of native trees, with around 450 species in the area. Common trees include Jarrah, Karri, Marri, Sheoak, and Blackbutt. Notably, the Karri and Jarrah forests are emblematic of the region, contributing to its ecosystem and providing habitat for wildlife. The Two Peoples Bay Nature Reserve, and the West Cape Howe, Gull Rock and Torndirrup National Parks all encompass a range of ecosystems, including heathlands, woodlands, and coastal vegetation. Along the coast, the Paperbark trees flourish in wetter conditions, contributing to the local ecosystem. These tree types, along with Banksias, Sheoaks, and Peppermints, collectively shape Albany's diverse botanical landscape.
Top Locations in Albany, Australia:
Albany City and Surrounds
No items found.
Torndirrup National Park
Two Peoples Bay NP
West Cape Howe National Park